The Samsung iDCS 16 supports up to 6 telephone lines, 12 digital extensions and 4 analog devices (home style phones, fax machines, modems, etc...) plus an SVMi-2e voicemail card. You can also choose any iDCS digital telephone for this system.

Samsung's iDCS 16 is a cost-effective, feature rich communications platform for your business. Offering your choice of DS 24D or iDCS Keyset models, this powerful system has capabilities commonly found in larger systems.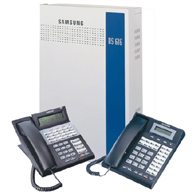 Caller ID Name and Number compatible on standard telephones, the iDCS 16 provides valuable information to your fingertips. The system offers you additional attributes such as high reliability, ease of installation, and protection for your investment by allowing you to effortlessly migrate iDCS Keysets as your business grows. Add the SVMi-2E Voice Processing Platform and see how the full Voicemail and Auto Attendant help your business run more efficiently. Best of all the iDCS 16 is as easy to use as it is efficient.

The SVMi-2E is Samsung's Integrated Voice Processing Platform for the iDCS 16. With up to 4 ports, up to 100 mailboxes and a full Auto Attendant, the SVMi-2E offers the highest level of professional voice processing services to your small business. Using the latest in Compact Flash memory technology, the SVMi-2E provides up to 2.5 hours of message storage, supports Network Mailboxes and provides multi-language support for 12 available languages (English, Spanish, and French come standard).

The SVM-400E is Samsung's External Voice Processing Platform for the iDCS 16, equipped with 2 ports, 25 mailboxes, a full Auto Attendant, and up to 2.5 hours of message storage. The SVM-400E is easy to install and maintain, it has no moving parts, making it incredibly reliable.