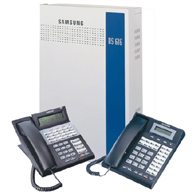 Click here to find out what great deals you can get on these systems!
Designed for small to medium-sized businesses

Welcome to the iDCS 100, an uniquely positioned part of Samsung's elite family of Business Communications products.

Welcome to the iDCS 500 Release 2, the premier system in Samsung's elite line of telephony products.

Learn more about the OfficeServ 7200
OfficeServ TM 7200 converged communication system provides voice, data, wireline, and wireless solutions.

Learn more about the OfficeServ Wireless Product
The OfficeServ Wireless solution provides the final piece to a truly converged work environment - voice, data, wired and wireless all operating together on one integrated system.

See the Samsung Keyphones and VoIP Keyphones
Attractive and user-friendly choices for your business

How does Samsung's VoIP solution stack up to Cisco's? Click here to see Power Point presentation that answers this question.